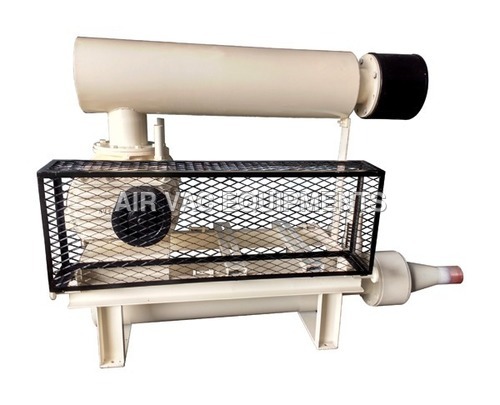 Rotary Twin Lobe Roots Blowers
Product Code : 01
Product Description
We are engaged in offering our clients a comprehensive assortment of Rotary Twin Lobe Roots Blowers. It is manufactured applying an tried and tested volumetric principle, which says the generated volume is proportional to rotation speed, offers 100 % oil-free air and transported gas that is free from contamination. This product comprises two identical twin or tri lobes that rotate in opposite directions. It is available from 20m3/hr to 30000 m3/hr along with pressure application ranging from 1000 MMWC (0.1kg/cm2) to 10000 MMWG (1.0kg/cm2).
Features:
· Helical gears located on the driven side for more input torque capability.
· Side Plates have vents that ensure no risk of oil contamination.
· Heavy-duty roller bearings for maximum loading.
· Heavy duty bearing holders on thrust end for more axial load capability
· Piston ring seals for lifetime reliability.
· Large oil sumps for improved bearing lubrication.
· Well suited for V-belt as well as direct-coupled drive
· Shaft material is alloy steel, EN24 (817M40) conforming to BS: 970 Part-iii
· Construction material of casing and lobes for all blowers is C.I.F.G.-260 conforming to IS: 210

Applications:
· Effluent/ water treatment plant
· Fertilizer & chemical plants
· Pressurization of high altitude chambers
· Air blowing glass industry
· Centralized vacuum cleaning
· Boosting or evacuation of gases
· Air agitation of chemical solution
· Filter bed agitation
· Sulphation process-sugar plants
· Cement blending, aeration & fluidation
· Pneumatic conveying- cement chemicals
· Agitation of ice-plants, liquids-electroplating plants, lamps & luminaries manufacturing plant and others
Fisheries / hatcheries / aquaculture
Contact Us
Plot No. 96/1, Pushkar-Ii Ind. Estate, Unit-73,62. Vatva G.i.d.c. Phase-I, Vatva, Ahmedabad, Gujarat, 382445, India
Phone :+919901323572