Semi-Automatic Cement Feeding Machine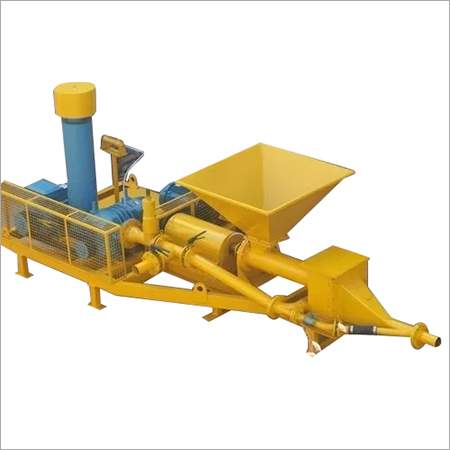 Semi-Automatic Cement Feeding Machine
Product Description
Cement Feeding System

Holding years of experience and knowledge in this industry, our company has been able to mark its strong presence in the market as one of the most excellent manufacturers, exporters & suppliers of Semi-Automatic Cement Feeding Machine. Precisely engineered using quality steel and iron, these systems are highly appreciated for their robust construction, minimum maintenance and superior finish. Our offered Semi-Automatic Cement Feeding Machine is stringently analyzed by our experienced quality analyzer on quality standards before delivery to clients.
Applications

The Semi-Automatic Cement Feeding Machine are heavy duty, screw type pneumatic pumps. These pumps systems are most commonly used to convey dry, free-flowing, pulverized materials from grinding mills, transfer materials from silo to silo, transfer dust from collectors, and load and unloadrailcars, a pipeline can be run and to any number of delivery points.
Operation

The materials to be conveyed enter the hopper by gravity or dumped by any means. The material is compacted as it is advanced. Its density is further increased in the space between the terminal flight of the screw and the face of the non-return valve to form a seal against the transport line pressure, thus preventing blowback. The material then enters the discharge body, is fluidized by compressed air, and is conveyed into the transport line.


Technical Specifications

Model AVE-I, AVE-II
Output Capacity 12-15 Ton/ HR 22-25 Ton/ HR
Feed Hopper Capacity 500 Kg 700 Kg
Screw Toughend
Screw Motor 22.5 KW/ 30 HP 22.5 KW/ 30 HP
Twin Lobe Air Blower DGR-191, DGR-122
Blower Motor 30 Kw/ 40 HP 37.5 KW/ 50 HP
Structure with wheel/ Anti vibration Pad with wheel/ Anti Vibration Pad
Power Supply 415 V AC + 10%, 3 Phase 50 HZ + 5%
Following Accessories Included
Suction Silencer Non Return Valve
Discharge Silencer V-Belt Set
Spring Loaded safety valve V- Belt Guard
Suction Filter Driven Pulley
Trade Information
30 Days

Wooden Box Packaging